Welcome to February, the month of love. While some cuddle up together and try to determine what to buy their significant other for V-day, others are more excited for reading week & Family Day. Remember how that's a holiday now? Since I'm of the single variety, instead of focusing on my non-existent beau this month, I'll take this time to discuss the cutest Hollywood couples.
Forget the ugly break ups and 7-time divorced celebs that the public loves to gossip about. I'm going to focus on the couples that make me nauseous—because they're oh so cute!
Here are my five favourite Hollywood couples, in no particular order:
Khloe Kardashian & Lamar Odom
Talk about love at first site! These two knew each other for like 30 days before they got married. And normally I'd be like WTF that's crazy; but with these two it just worked. They're so in love and so united that you'd think they knew each other years before marriage, not days. Khloe is quirky & Lamar embraces every bit of it. If you're a fan of their reality TV show & remember the blow up giraffe, Henry—you'll know exactly what I mean!  Basically they're hella cute & it's great.
Not only did Khloe & Lamar create a unisex fragrance together, called Unbreakable—but they also have tattoos for each other. Tattoos! That shit's forever. I normally wouldn't approve of getting a tattoo for a significant other, but I honestly don't think they'll ever regret it.
Channing Tatum & Jenna Dewan
After meeting on the set of Step Up in 2006, the two fell madly in love. Whenever I see them attending red carpet events & they're being interviewed, they are so genuine! They express real excitement for things & don't act like some stuck up celebrity couple (cough cough….Brangelina). They don't try to get pointless attention & they're just seriously in love. In 2011 I saw them together at the TIFF premiere of Ten Year—a film where they play a couple & the entire night of the premiere, they couldn't get enough of each other. When they went up for the question and answer bit, they were hand in hand & it was just adorable. They also recently got pregnant! Their child is going to be the cutest little baby & it will definitely be able to dance, no doubt!
Remember when Channing rocked baseball hats & baggy pants? So glad that phase is over.
Dax Shepard & Kristen Bell
I think these two are to die for adorable. They're both nuts—it's perfect. I've always had a random crush on Dax since he was on Punk'd & love that he ended up with Kristen.  Remember when Dax brought her a sloth? Even though they've been engaged for over 2 years they have not yet gotten married—but the reason behind it, is what makes them so special. Kristen & Dax have stated that they will not marry until gay marriage becomes legal in California. They don't feel it's appropriate to take advantage of a right that's denied to their gay and lesbian friends. Come on California, marriage should be legal for everyone! Dax & Kristen also just got pregnant & Kristen rocked her baby bump at the Golden Globes!  2013 is really the year for celebrity babies! Dax & Kristen are going to be the funniest parents.
If you still don't love them, I'll leave you with this:
Ellen DeGeneres and Portia De Rossi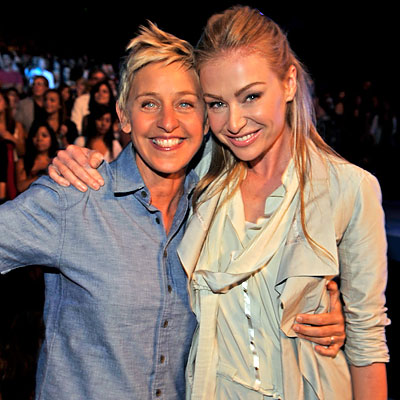 Ellen is the best thing that happened to talk shows & Portia was on one of the best shows that ever graced our TV screens (Arrested Development)—Let's talk about a power couple! Just last week, Portia turned 40 & Ellen made sure to showcase Portia's 40 years on her show. Not only is Ellen funny, but you can tell how much she loves Portia & vica versa. In Ellen's re-creation of Portia's 40 years, she re-inacts their first encounter, their wedding & at the end says how happy her past 8 years have been with Portia. The last minute of the video had me in tears—their relationship is beautiful.
Also, I always adored Portia's long locks, but I gotta say that I love her cropped look!
As my mum says: "She pulled a Miley"
Miley Cyrus and Liam Hemsworth
Remember when they fell in love in The Last Song? Yeah, she cut off all her hair. Yeah, she's obsessed with her dogs. But I love her anyways! Miley Cyrus has the best style—you can't deny it. And her fiancé, with his lovely face and sexy accent defines the word HUNK. Liam is a babe. Miley is a babe. Their future children are going to be ADORABLE. But don't let me get ahead of myself here! They're young & definitely not talking babies yet. They haven't even tied the knot! But they don't need the paper to prove that they're in love & forever, they very clearly already are! BUT, there's rumours that the wedding is happening soon!
I also just really wish I could raid Miley's closet—I'm a tad obsessed. Remember when she was Hannah Montana? Who thought she'd be rocking numerous tattoos, a pixie cut & teddy boy shoes? The best.
Oh & mentioning tattoos, Miley & Liam have matching ones. No they're not literally the same tattoo but they both quote Theodore Roosevelt's legendary "Citizenship in a Republic" speech. Miley's says : "So that his place shall never be with those cold and timid souls who knew neither victory nor defeat." & Liams: "If he fails, at least he fails while daring greatly" — these lines follow each other in Roosevelt's speech.
______________________________________________________________________________________
And now that I'm done obsessing over my favourite celeb couples, I want to hear who your favourites are! Is there anyone I left out? Anyone here you do NOT agree with? Tweet us @RUStudentLife & let us know. Enjoy the start of this love filled month.  If you're single, don't worry! You can live vicariously through these cuties. Happy February!