Written and Submitted by: Vanessa Mainella, Student Copywriter – The Ryerson Career and Co-op Centre Student Team
That's right Rams, it's exam season. It returns every semester with a vengeance, faster than anyone expects. Finals tend to stir up anxiety for a lot of us. Understandably so, considering exam marks can be a large portion of our grades. But have no fear, the RCCC & friends are here (with exam tips!)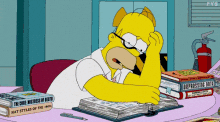 Exams look different this year than they normally would. Most are occurring, of course, online. Here are a few tips that will help you prep for your exam and adapt to online testing. 
Organization:

Create a study plan one week in advance of any exam, and outline what you'll try to focus on each day. This will manage your study time and create a schedule around your online lectures. Check out

Student Learning Support

for study tips and support. 

Study Groups:

A classic way of studying, suddenly made easier by remote learning! You can study with your classmates over Zoom, Google Meets, Skype, and other online resources, without worrying about booking study space on campus.

Study in small doses and take breaks:

Letting your brain rest has always been an essential part of studying, but now it's even more necessary as we expose our eyeballs to the constant harsh blue-light of our computer screens. To make this process easier, I installed blue-light inhibitors on my screens. It helps immensely and makes it easier to focus. Listen to your body and take breaks when needed! #saveyoureyeballs2020

Video chat during office hours:

If you need extra support, reach out to your professor to visit their office hours. Most professors will be meeting via video chat. Also communicate any accommodations you might need while writing your exam at home.

Prep for exam day:

Make sure you have all necessary materials ready ahead of time. This might include your Ryerson ID, certain computer software, or other equipment like calculators. Also, I'm no health guru, but I know for sure that snacks improve exam day performance. There's always room for more snacks!

Manage your stress levels

: Your mental well being is just as important as your physical health.

Check out Thrive RU

and their

Thriving in Action

library of learning and wellbeing strategies to manage the anxiety that comes with finals. It's hard to put your mental health first while in school, but I think if we make small conscious efforts to do so, it can make this whole process just a little more manageable. 
We are all experiencing a new form of exam season this year. Although different in format, our study habits and good physical and mental health are important to maintain. Here's a list of resources available to help with this time of year: 
Student Learning Support: 416-598-5978 /

sls@ryerson.ca

English Language Support: 416-598-5978 /

sls@ryerson.ca

Reference Material and Research Assistance: 416-979-5055

Academic Counselling related to Educational decision-making: 416-979-5195 /

csdc@ryerson.ca
Academic Accommodation Support: 416-979-5290/ aasadmin@ryerson.ca
We'll get through this together, Rams! Happy testing!