This year, I had the opportunity to go to We Day with RU Student Life and write about my experience. In case you are not familiar with We Day, it is a day when thousands of youth, world leaders and entertainers gather to discuss educational and empowerment discuss and create change. Amazing, right?
I attended We Day two years ago as a volunteer. One of my roles was putting together thousands of goodie bags alongside countless other youth. It was a great experience volunteering my time working behind the scenes and being part of the movement. Having the opportunity to actually see the show this year and was a moving experience and one I will never forget.
The show started at 9a.m. at the Air Canada Centre. One thing you immediately notice are all the volunteers putting the show together. It's so great to see how much time people want to donate into a movement so important.
Right as we got to our seats, the show commenced with a 10 second countdown. Then, the co-founders, Craig and Marc Kielburger, came to stage to talk about Free The Children, Me to We, and We Day; they gave a motivating speech that kicked off the morning.
Hugely enthusiastic crowd in the Air Canada Centre for We Day Toronto 2014
The entire theme of this year's We Day was centred around a regular school day. The classroom was the venue, your classmates were the 20,000 youth sat around you, and the teacher was Liz Trinnear, along with each subject being a different class. We had four "periods" and the day unfolded like this: first period was "economic empowerment"; second period was "technological empowerment"; third period, "social empowerment"; and finally, fourth period: "educational empowerment." Talk about a full day's worth of learning!
During and between each period, many artists performed for us. Imagine the excitement in the air when 20,000 youth saw performances from Lights, Hedley, Neverest, R5, Kardinal Official and even a surprise performance by Kendrick Lamar!
Hedley performing at We Day Toronto 
Many other familiar faces and motivating speakers included Spencer West, Katie Couric, Big Sean, Kweku Mandala, Col. Chris Hadfield, Joe Jonas, and Queen Noor of Jordan. A pretty epic line up to me, am I right?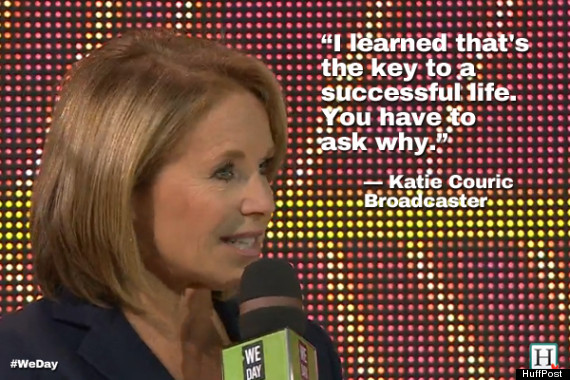 Katie Couric at We Day: "I learned that's the key to a successful life. You have to ask why."
A highlight of the day was when Ryerson's very own Shreya Khanna, fourth-year radio and television arts student, spoke on stage representing our school and gave an encouraging speech about global technology and how we, as youth, can make a difference in our world.
Ending off, Craig and Marc Kielburger took the stage and gave their final ending speech.
The one-day event started in 2007 and is now being held in five Canadian cities and even in international cities as well. It's remarkable to see how much Free the Children, Me to We, and We Day have grown in reach and impact over the years!
With a powerful movement like this done by youth for youth, each action makes a huge difference for a better tomorrow. To learn more about how you can get involved, visit Free the Children, Me to We, and We Day!
Cover photo credit: Chris Young/Canadian Press