Commuting to school is one of the most pain-staking parts about receiving a university or college education. Early days, late nights and long bus rides can leave you in a constant tired state as well as penniless.
If you commute from home outside the downtown core, though you might not pay the inflated rent of some of your residence and apartment friends, commuting is still expensive. Then when you factor in the time going back and forth from school and the time that you could've worked at your part-time job or been studying, you realize it's a huge commitment financially, mentally, and physically.
Worry no more! I'm here with some sure fire ways to save you some major dough.
Step One: Get the GO Transit Student ID Card or TTC Student Pass
Most students that commute to Ryerson's campus use GO Transit as their primary method of transportation. It is reliable, quite comfortable (if you get to the bus or train on time, that is) and easy to use. But, it ain't cheap!
All GO transit passengers now travel on Presto. The best way to save money through Presto is to get the GO Transit Student ID Card as soon as possible. Once you've applied, it will be printed out by the nice folks at the OneCard office in Jorgenson Hall and you can pick it up after a couple days. Once you've got the card, go down to Union Station and head up to one of the clerks at the customer service desks (you know the one with the giant, but conveniently fast line.)Just let them know that you want to set up your Presto card with the student ID and they'll hook you up.
By using this card you'll save at least $60 a month or $420 per school year. Remember this is most likely the very least you can save. The less you come down, the more you save.
Similarly, when you pick up a Student TTC pass from the student centre on campus, you save a bucket load of cash.
Step Two: Set-up you schedule to maximize total savings
We've all experienced the horror that is course enrollment day, so I'll spare you that memory. However, when course enrollment day does come around, try to move your classes around in a way that gives you a day off. That's a whole day's worth of transit fares that you are saving. For me, that's around $20, which adds up fast.
This won't work for everyone because unfortunately some mandatory classes end up being spread out over the full week of school, But if you have the chance to, do it! This is most easily done when you try to move your electives around. Is it worth switching out of Science Fiction and into Global Music if you save some money? Up to you, but for a cash-strapped student, it can make all the difference.
Step 3: Start walking
If you need to get to Union Station, which pretty much everyone does, I suggest walking. I realise the temptation to tap your presto card is strong but, you're spending $2.70 every time you do. It's a 15 minute walk from Ryerson to Union Station, whether it's down Yonge Street, Bay Street or through the Eaton Centre. Every time you walk to or from Union, you are saving about $3. It seems like a menial amount, but it all adds up and you'd be surprised the difference it makes. Not to mention, it's a lovely walk and you'll get your little bit of daily exercise. It'll make up for all the sleeping you're going to do in your lecture. OR bring your bicycle down! BUT always make sure you're safe. If it's late at night, just avoid the risk and opt for the subway.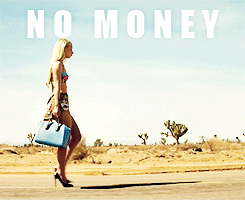 Step 4: Carpool
If you don't live close enough to a GO or subways station that you can walk or bike, why not find some new friends and carpool to the station? Or if you drive to Ryerson every day, this is a huge cost cutter. Smaller gas costs, fewer carbon emissions and meeting some new people make this a win-win for everyone.
Step 5: FOR DRIVERS – Find the shortest route possible
This is pretty much a given for every smart driver. You don't have to take the route that everyone else is taking, that's probably the worst thing to do. Try and find something shorter to avoid being stuck on the 401 for hours and stressing yourself out. May I suggest the QEW and Gardiner combo or the 407 if you're coming from the east of Toronto? While you're at it, try minimizing you heat and air conditioning use.
Step 6: Take Advantage of the Transit Tax Credit
Once tax season comes around the Government of Canada will give you a tax credit to make transit more affordable. So you'll get some of the money back once the school year is over. The tax credit is can be used for buses, streetcars, subways, trains and local ferries. Though you don't get a full refund, you can get a lot of money taken off of the amount of tax you owe.  The amount you can claim is deducted from the amount of tax owed for that year. It isn't the greatest way to save money but, not a bad deal if you ask me!
So there you have it! These are some of the best ways to save money this school year, on commuting anyways. Help out your fellow student and leave a comment if you have any secret ways you're saving money while on the go!